Seven Thousand Ways to Listen
Free Press, Simon & Schuster, NY, October 2012
WINNER OF THE 2012 BOOKS FOR A BETTER LIFE AWARD, FOR SPIRITUALITY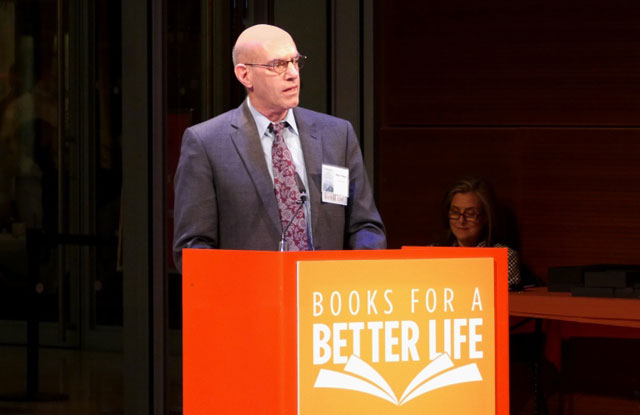 CITED BY SPIRITUALITY & PRACTICE AS ONE OF THE BEST SPIRITUAL BOOKS OF 2012

"Mark Nepo has become one of my favorite spiritual teachers. His bestseller, The Book of Awakening, came to me by chance as a birthday present. I kept it by my bedside table for two years, dipping into it many, many times. More recently, Nepo's book Seven Thousand Ways to Listen: Staying Close to What is Sacred (Atria) has given me the opportunity to expand how I take in people, words, the world. I've loved being introduced, through Nepo's spiritual memoir, to the idea of really hearing, in ways I never have before."
— Oprah Winfrey, The Oprah Magazine, November 2013, p. 98

"A consummate master of telling stories and parables about people's hopes, dreams, yearnings, fears, sorrows and triumphs… Nepo has written a masterwork on the spiritual practice of listening which plays such a predominant role in our private and public lives."
— Frederic and Mary Ann Brussat, Spirituality & Practice (full review)

"This masterpiece on listening comes at a vital time when divisions in American run rampant around politics, race, and religion."
— Debra Moffitt, BeliefNet, author of Awake in the World (full review)

"Mark Nepo is the F. Scott Fitzgerald of contemporary spiritual literature. Every line he writes contains a formidable, yet simple poeticism that strives for revelation. Each sentence exudes its own cathartic beauty… This beautiful book is a balm for anyone who is questioning the blows life has dealt them."
— Peter Valentyne, Sufi

"Perhaps one of the most exquisite, poetic, and useful books ever written on this topic…. Every line, every phrase, every story is a poetic prayer coaxing the reader to listen and be listened to with more grace."
— Presence, the Journal of Spiritual Directors International

"Seven Thousand Ways to Listen is one of the most captivating, inspiring and poetic books in which you can immerse yourself. Every word takes one deeper into their most authentic and beautiful experience of being in the world… Whatever challenges you are encountering in your own life become doorways to a deeper and more profound experience of your own unique soul journey."
— Michael Stone, Radio Show Host, Well of Light

Order from an online bookseller:
Amazon
Barnes & Noble
Books-a-Million
IndieBound
iBookstore

Available as an audiobook from Simon & Schuster, October 2012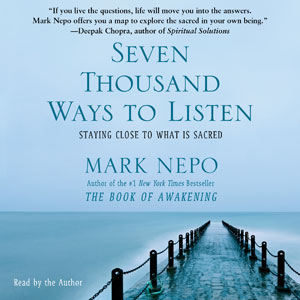 Download online:
Availble on iTunes
Availble on Audible

LINKS
Mark discusses his new book, Seven Thousand Ways to Listen

Seven Thousand Ways to Listen Audiobook


BOOK DESCRIPTION
We spend much of our time on earth listening and waking. When awake, we come upon the risk to be authentic. And taking that risk, we are faced with the need to stand by our core in order to live life fully. If we get this far, we are returned, quite humbly, to the simple fate of being here. And after all this way, it appears that a devotion to deep listening remains the simple and sacred work of being here.
To awaken our heart through this sort of reverence strengthens the fabric that knit us all together. Why is this important? Because as cells need to be rinsed by the river of blood to stay healthy, the river of blood needs healthy cells to keep the body alive and whole. In just this way, the world depends on the dance between the individual awakened soul and the river of Spirit that feeds us all. The world needs healthy awakened souls to stay alive and whole.
Yet how do we inhabit these connections and find our way in the world? By listening our way into lifelong friendships with everything larger than us, with our life of experience, and with each other.
We could say that our friendship with everything larger than us opens us to the wisdom of Source. This is the work of being. We could say that our friendship with experience opens us to the wisdom of life on earth. This is the work of being human. And we could say that our friendship with each other opens us to the wisdom of care. This is the work of love. Of course, while we may feel lifted or overwhelmed by each of these on any given day, they are intertwined and inseparable—three friends we need to stay connected to if we have any hope of living an awakened life. These three friendships— the work of being, the work of being human, and the work of love—frame the journey of this book. In this book, you will find reflective pauses throughout. Each will pose a set of questions or meditations, offered to initiate various forms of conversation as a way to locate what has meaning in your own life. So I invite you into the work of reverence; into the work of staying freshly connected by entering your friendship with this mystery we call life. I invite you to listen in every way you can, for listening in all things is the first step toward friendship.

EXCERPTS
Much of my life has been devoted to staying in conversation with everything around me—with the mystery, with God or Source, with the rivers of change, with you. As I get older, I long even more for the wisdom and companionship of other living things; to stay in conversation with all I love, with all I admire, with all who have suffered and given of themselves to stay alive and to keep life going. In many ways, our stories are part of one story. Our pain is part of one pain. Our surprise at the beauty and fragility of life is part of one chorus of awe. My passion now is to stay as close as possible to the pulse of what is kind and true; to stay in conversation with what happens there and to experience more and more ways to listen.

KEEPING WHAT IS TRUE BEFORE US
Faith is not an insurance, but a constant effort, a constant listening to the eternal voice.
— Abraham Heschel

I needed to have blood drawn for my annual physical and even though it's been twenty years since I've been spit out from the mouth of the whale of cancer, it's never very far. I kept telling myself that was then, this is now. But in the early morning waiting room, I could feel my breath speed up, higher in my chest, and below any conscious remembering, the many waiting room walls began to appear, dark friends who say they miss me.


Once in the little lab room, a young woman wrote my name on a small vial, asked me to make a fist, and as she poked the needle in my vein, I looked away; swallowing my whole journey which wants to rise through these little needle pricks any chance it can get.


It was over, for another year. I didn't realize it but I had been holding my breath, way inside. As I opened the door back into the world, I exhaled from underneath my heart and suddenly began to cry; not heavily but the way our gutters overflow in spring when the ice thaws all at once.


I was surprised. After twenty years, I thought the alarm of all that suffering and almost dying would be knit more quietly in my skin. How come it keeps bursting forth when I least expect it? I've been told it's a form of post-traumatic stress; a problem that can be addressed. As I drove to work, I made a vow to tend to this in the coming year.


The next day I was up early, before dawn, eager for my morning swim. On the way, at a light, it began to snow very softly and the voice of the singer in the radio seemed, for an instant, to be falling like the snow on the windshield. It made me start to cry again in that overflowing way. It's been a week since the little pin prick in my arm and I keep crying at simple things—the late cloud parting for the moon, the footprint of a small deer, even the fast food wrapper on the sidewalk. With each small cry, it feels less a release and more like an irrepressible, unfiltered tenderness at being fully here. The more of these moments I experience, the less a problem it seems. For isn't this what I've been after: to be this close to life, to be pricked below the surface of things? Now it seems the damn needle is a gift! Now I wonder: isn't anything that keeps us this close to life a gift? Now I want to learn the art of puncturing whatever grows in the way in order to feel that moment where everything touches everything else. I'm coming to see that keeping what is true before us reminds us that there was never a better time than now.


This tripping on what pricks us is an age-old process through which we often stumble into moments of being fully alive. Indigenous peoples have always had a more fundamental understanding of direct experience. Consider the Polynesians who believe that everything physical—stone, wood, flower—has a numinous quality; that each thing on earth emanates an inherent spirit that glows from within it. This is another way to describe the moment where everything touches everything else. We've come to call that inherent glow life-force or essence. When fully here, we touch what is before us—life-force to life-force, essence to essence. When asleep or numb or moving too fast, we only touch surface to surface. And without that glow of life-force, that glow of essence, things just get in the way. It seems that the feel of truth and meaning waits below the surface, and it is the heart of listening that allows the life-force in all things to touch us. It is our ability to listen that saves us from the sheer fact of things.


What often starts as a moment of unexpected feeling that startles us becomes, if leaned into, a deeper way of knowing. So how do we listen in a way that allows us to be touched by life? It helps to stay devoted to moving below the literal fact of things. For waiting under the surface, like an inner sun, the life-force or heartbeat of the Universe will reveal itself and connect us to the sheer power of what is vital in life—all through the heart and overflow of earnest listening, through a being-with that keeps us alive.
A Reflective Pause
JOURNAL QUESTIONS

Tell the story of a moment that surprised you with an unexpected flood of feeling and how this affected you.


Tell the story of one thing you know to be true and your history of keeping that truth in your awareness.


What does living below "the sheer fact of things" mean to you?

The Tuning of the Inner Person

U Thant (1909-1974) was a gentle seer. He was born in Pantanaw, Burma, and became a diplomat and the third Secretary-General of the United Nations (1961-1971). He was chosen for the post when Secretary-General Dag Hammarskjöld was killed in a plane crash in September 1961. He was the first Asian to serve as UN Secretary-General.


When asked, U Thant defined Spirituality as "the tuning of the inner person with the great mysteries and secrets that are around us." That tuning is a timeless art which no one can really teach. And yet this is a helpful way to describe the work of being, which necessitates deep engagement and constant listening. The great Jewish philosopher Abraham Heschel suggests that the reward for such inner tuning is not just a sense of peace, but that by finding and inhabiting our place in the ever-changing Universe, we strengthen the fabric of life itself:
By being what we are…by attuning our own yearning to the lonely holiness in this world, we will aid humanity more than by any particular service we may render.
Heschel implies that the world is not complete until fitted with our yearning; that just as the earth would be barren without trees, plants, vegetables, and flowers, the holiness of the world, waiting just below the surface, will stay barren without the spirited growth of our dreams, creativity, generosity, and love. It seems that the first destiny of being here is to root our being in the world, that the world needs this as much as we need each other.
A Reflective Pause
TABLE QUESTIONS

To be asked over dinner or coffee with friends and loved ones. Try listening to everyone's response before discussing:


U Thant's description of Spirituality as "the tuning of the inner person with the great mysteries and secrets that are around us" is very useful. He gives us an image of the individual in relationship to the whole of life.


Describe your own image for this. Are we each a rung on an infinite ladder? A star in a constellation? A bird in a tree? A root growing in the earth?


Share and inquire into each other's images of the person and the whole.


Do not argue or compare them, just listen to them all.


Describe one aspect of your own tuning that seems to be working well and one inner aspect that needs more of your attention.


To Honor

How do we begin then to inhabit our destiny of being here? I believe it begins with reverence and listening, with honoring every bit of life we encounter. So at the deepest level, when I say I honor you, what does this mean? I've learned that to honor the truth of someone else's experience means that when I become conscious or aware of you, I make a commitment to keep that truth visible from that moment forward. To honor you means that what I've learned about you becomes part of our geography. It means that what has become visible and true will not become invisible again.


To honor myself, then, means that as I grow, I will not ignore or hide the parts of my soul and humanness that become more present in me and the world. To honor myself means that I make a commitment to keep the truth of who I am visible; that I will not let the truth of my being become invisible again. Or if it does, I will stay devoted to retrieving it.


Given all this, to honor God means that we vow to keep all that we become aware of in view; that we will not pretend to be ignorant of things we know to be true or holy. And if we forget or get distracted or derailed, we will stay devoted to retrieving the ever-present sense of the sacred.


So at the deepest level, the most essential level, listening entails a constant effort to feel that moment where everything touches everything else; a constant effort to live below the sheer fact of things. This fundamental listening invokes a commitment to keep what is true before us, so we might be touched by the life-force in all things. Such listening opens us to the never-ending art of tuning our inner person to the mysteries that surround us. How? Through the work of honoring what we experience, through the work of keeping what is true visible. All this is the work of reverence.


We will encounter many great listeners along the way, many great workers of reverence. To welcome you on this journey, I offer one great listener, known more for his understanding of gravity than for the deep quality of his ability to honor life. I'm referring to the legendary physicist, Sir Isaac Newton. Near the end of his life, Newton declared with joy and humility:
I do not know what I may appear to the world; but to myself I seem to have been only like a boy playing on the sea-shore, and diverting myself in now and then finding a smoother pebble or a prettier shell than ordinary, while the great ocean of truth lay all undiscovered before me.
Let us begin our walk along the sea.
A Reflective Pause
A MEDITATION

Close your eyes, breathe slowly, and imagine the lineage of great listeners throughout time.


Inhale deeply and feel their living presence.


Exhale deeply and feel how such listening connects us all.


Open your eyes and inhale slowly, honoring what you know to be true about your life.


Exhale slowly, honoring what you know to be true about those you love.


Enter your day committed to keeping all you are aware of in view.

REVIEWS
If you live the questions, life will move you into the answers. Mark Nepo offers you a map to explore the sacred in your own being.
— Deepak Chopra, author of Spiritual Solutions
Nepo has mastered a unique way of inviting the reader into a meditative state while reading his sublime wisdom about everyday life. I found his work a comfort—and that's a rare find these days.
— Caroline Myss, author of Entering the Castle and Defy Gravity
This profound and lyrical book teaches us the lost art of listening. And as we learn to listen, we open to the myriad voices of life and the silent mysteries of the soul and begin to sense the truth of being alive. Mark Nepo's words are always like choice wine for the soul, to be sipped slowly, allowing their flavor into all the secret places of our being. Beneath and between his words we can hear this greatest wonder we call life. This is the real gift of this wonderful book.
— Llewellyn Vaughan-Lee, Sufi teacher and author of Prayer of the Heart
Ninety per cent of writing is listening. To receive the world and to receive ourselves. In this book Nepo has generously taught us how to listen. Do the reflective exercises he suggests to lead you deeply down the path.
— Natalie Goldberg, author of Old Friend from Far Away and Writing Down the Bones
Mark Nepo is a master of listening deeply to life's experiences where essential messages for the soul can be found. In Seven Thousand Ways to Listen he shares his wisdom with us. Mark gives us hope that we can live more vital lives through our own careful listening to our depths. Pain excavates those depths where life is trying to awaken our authentic self. Visiting the pain in our lives is made more meaningful when we can do so with a spiritual master like Mark Nepo. I find myself wanting to keep this book near me for frequent consultation and meditation.
— Rev. Ed Bacon, author of 8 Habits of Love; rector, All Saints Episcopal Church, Pasadena, California
"Listening is the doorway to everything that matters," claims Mark Nepo. In a world where we try to make ourselves known by making noise, that's a revolutionary claim. Revolutionary but true. Read this beautiful book and learn to listen anew—to those closest to you, to strangers, to nature, to your own heart, and to the great silence. Everything that matters is found on the other side of the noise, and this book, written by a master listener, can help us find our way to it.
— Parker J. Palmer, author of Healing the Heart of Democracy, Let Your Life Speak, and A Hidden Wholeness
Honest… raw… (and) also comforting… Mark Nepo's luminous Seven Thousand Ways to Listen (reveals) that listening has less to do with one's inner ear than it does with one's inner journey.
— Spirituality & Health Magazine
A meditative approach to silencing the world's noise…. Readers receive tools necessary to slow down and learn to listen in a deep, meaningful way…. Nepo provides thorough methods for reaching deeper into the inner self.
— Kirkus Reviews
Oprah Winfrey has said that the writing of Mark Nepo takes her breath away. She's not alone: His Book of Awakening and Finding Inner Courage have been word-of-mouth bestsellers in our bookstores and online. Seven Thousands Way to Listen, his latest effort, displays the deep synergy of his poetry and thought. His attentiveness to the natural lyricism of life is conveyed in language that is both memorable and profound. Both autobiographical and philosophical, this marvelous work teaches us to respond to the physical and spiritual challenges of life.
— Barnes & Noble
A thought-provoking exploration of the art of listening… Nepo's background as a poet shines through in his writing, which can be truly beautiful.
— Booklist
Have your ever read a book with such beautiful prose that you wanted to cry? That is the way that Mark Nepo's words hit me. See I am an older person and my time is precious to me. I am not inclined to read bad books or watch awful movies. This book made me pause and…well…listen.
— Retire in Style (full review)