Mark discusses his Sounds True Learning Course, Staying Awake: The Ordinary Art, (weblink).
"Mark Nepo is a wise, brilliant, humble, and imaginative guide to matters of the heart and the soul. (In) this Sounds True Audio Learning Course the poet, philosopher, and bestselling author delivers a multidimensional and masterful probe on the art of staying awake, being present, and holding nothing back."
— Spirituality & Practice (Full Review)

Loading the player ...
Mark's invitation to A Transformative, Shared Experience of Inner Pilgrimage, (weblink).
In 2013, Mark offered this online course live for nine months, which is now available as a self-guided video course.


Tami Simon speaks with Mark in her podcast series, Insights on the Edge. Here, Mark speaks about how to relate helpfully to our pain, sincerity as a specific type of intelligence, the role of pilgrimage, and the spiritual path of the artist.
BECOMING THE POEM: A CONVERSATION WITH MARK NEPO.
(web link)

Mark will keynote at The 2014 Sounds True Wake Up Festival this August, including a pre-festival workshop on writing and spiritual growth. For more information, please see web link.

REDUCED TO JOY
THE JOURNEY FROM OUR HEAD TO OUR HEART
MARK NEPO
SOUNDS TRUE AUDIO LEARNING COURSE: 6 CD PROGRAM
PUBLICATION: OCTOBER 2014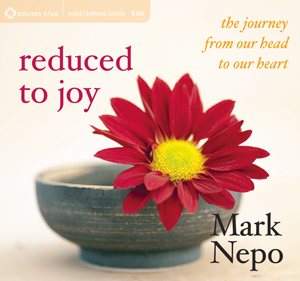 Based on his new book of poems, Reduced to Joy, cited by Spirituality & Practice as one of the Best Spiritual Books of 2013, Mark Nepo explores how the inner life of the soul meets the ever-changing teacher of experience. The poems serve as doorways to teaching conversations, in which Mark looks closely at the lifelong practice of working with what we're given till it wears us through to joy. Mark says, "Poems are teachers that ask you to live with them. I've lived with these for several years." In this six CD journey, Mark shares for the first time the genesis of fifty-one of his poems, reading them and unfolding the lessons he has found in each. About joy, Mark says, "Often, what keeps us from joy is the menacing assumption that life is happening other than where we are." About this set of teaching conversations, he says, "Poetry is the well from which all my books rise. It's where I always go to listen, always stunned by what arrives. It's how I remember and refresh what it means to be alive. I bring these poems back from the deep like shells from the sea that we can look at together." Profound and accessible, Mark's poems and the insights they open are tools for staying close to what matters. (web link)